Right since its armistice day and there hasn't been much up today thought id bang this up. Just a project I've been working on, finding the graves of Victoria cross winners, and seeing if i could find any old newspaper cuttings in Liverpool central library archive.
Hope it's not to big a posts but it's mostly text anyway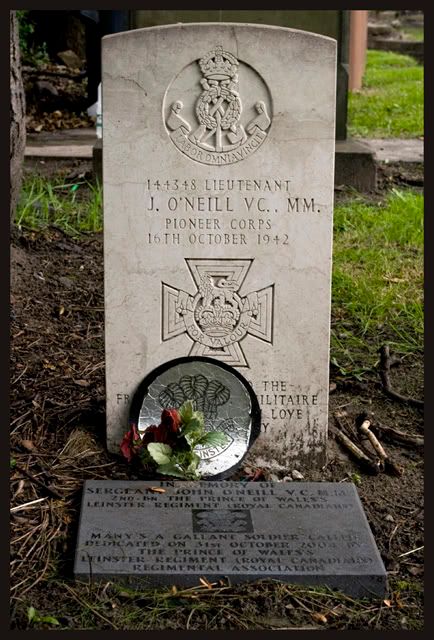 John O'Neill VC MM Born 10 February, 1897 died 16 October, 1942, Trinity Road Cemetery, Hoylake
London Gazette, 26 December 1918, Moorseele, Belgium, 14 & 20 October 1918, Sergeant John O'Neill MM, 2nd Bn, Prince of Wales' Leinster Regiment.
For most conspicuous bravery and devotion to duty near Moorseele on 14th October 1918, when the advance of his company was checked by two machine guns and an enemy field battery firing over open sights. At the head of eleven men only he charged the battery, capturing four field guns, two machine guns and sixteen prisoners. Again, on the morning of the 20th October 1918, Sjt. O'Neill, with one man, rushed an enemy machine-gun position, routing about 100 enemy and causing many casualties.
Throughout the operations he displayed the most remarkable courage and powers of leadership.
John O'Neill was invested with his Victoria Cross by King George V in Buckingham Palace on the 2nd August 1919
http://www.victoriacross.org.uk/bboneill.htm
He also served in the RAF as an Armourer Sergeant when he served alongside Lawrence of Arabia. In 1940 he was commissioned into the Auxiliary Military Pioneer Corps as a Lieutenant.[1] defending Liverpool's docklands from air attack.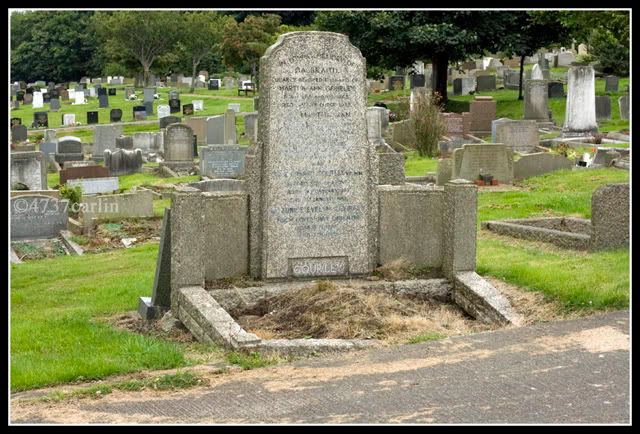 Cyril Edward, Gourley Born in Liverpool, 19 January 1893 and died 31 January 1982 Buried in Grange Cemetery, West Kirby
Captain 276th ( West Lancashire ) Brigade, Royal Field Artillery. Awarded a Victoria Cross in Epehy, France, 30 November 1917.
The VC was announced in the London Gazette on 13 February 1918 with the following citation:
For most conspicuous bravery when in command of a section of howitzers. Though the enemy advanced in force getting within 400 yards in front, between 300 and 400 yards on one flank and with snipers in the rear, Sergeant Gourley managed to keep one gun in action practically throughout the day. Though frequently driven off always returned, carrying ammunition, laying and firing the gun himself, taking first one and then another of the detachment to assist him. When the enemy advanced he pulled his gun out of the pit, and engaged a machine gun at 500 yards, knocking it out with a direct hit. All day he held the enemy in check, firing with open sights at enemy parties in full view at 300 to 800 yards, and thereby saved his guns, which were withdrawn at nightfall.
http://en.wikipedia.org/wiki/Cyril_Edward_Gourley
His VC is located in the Royal Artillery Museum, Woolwich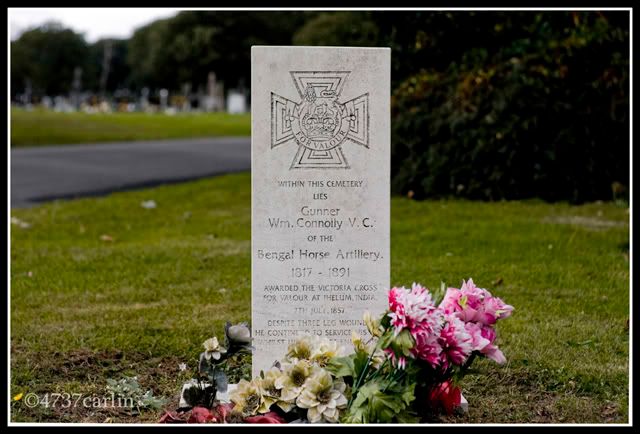 Kirkdale Cemetery, again another one that says "within this cemetery lies"
William Connolly VC (May 1817 – 31 December 1891)
He was about 40 years old, and a gunner in the Bengal Horse Artillery, Indian Army during the Indian Mutiny when the following deed took place on 7 July 1857 at Jhelum, India, (now Pakistan) for which he was awarded the VC:
During an engagement with the enemy, Gunner Connolly, acting as second sponge-man, was felled by a musket ball through his thigh and although suffering severely from pain and loss of blood, he insisted on mounting his horse in the gun team and riding to the next position which the guns had taken up on retirement. He was again hit by a musket ball later the same morning but staggered to his feet and went on wielding his sponge with energy and courage, and encouraging another wounded man, until he was wounded yet again and fell unconscious.
He lived his last years in Liverpool, sometimes reduced to beggary, even selling his VC. He was buried in a pauper's grave in Kirkdale Cemetery. Section 17 grave 220, sadly there is no visable markings.
Dealers Spink bought this medal for £10 at auction on 9 February 1886. Over the years they have bought and sold over 300 of these medals. In April 2004 they sold a Victoria cross for £230,000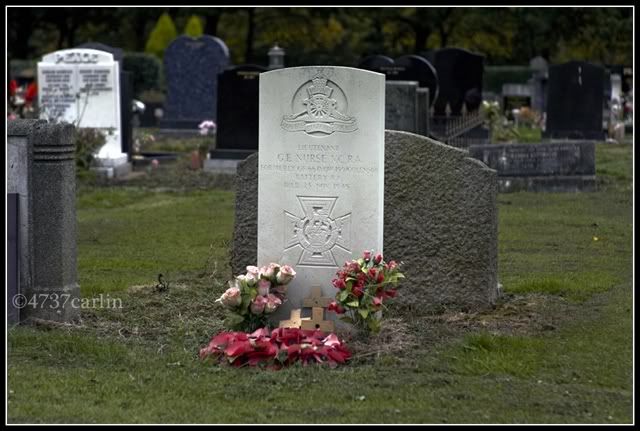 George Edward Nurse VC born in Enniskillen, County Fermanagh 14 April 1873 – Died 25 November 1945, Allerton cemetery, Liverpool
Second Lieutenant George Edward, NURSE VC 66th Battery Royal Field Artillery
Awarded a victoria cross when the following deed took place at Colenso, 2nd Boer War, 15 December 1899
From his citation: "At the Battle of Colenso, South Africa, on 15th December 1899, when the detachments who had been serving the guns had either been killed, wounded or had been driven away from their guns by enemy infantry fire, Corporal Nurse and several others tried to save the guns of the 14th and 66th Batteries. The intervening space between the guns and where some of the horses and drivers, who were still alive, were sheltering, a distance of 500 yards, was swept by a rifle and shellfire. Corporal Nurse, along with three officers, Captain W.N. Congreve of the Rifle Brigade, Lieutenant F.H.S. Roberts, who fell wounded, and Captain H.N. Schofield helped to harness a team to a limber and then line up a gun. Corporal Nurse, alone, managed to limber up a second gun"
During World War I he was commissioned as a second lieutenant.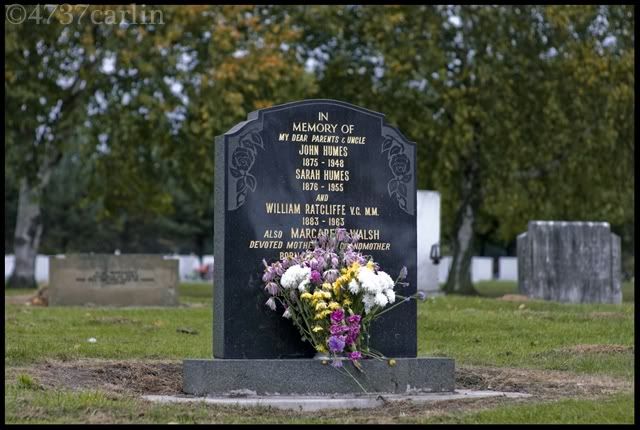 Private William Ratcliffe VC Born West Derby, Liverpool 21 March 1883, died 26 March 1963, Allerton Cemetery
[London Gazette, 2 August 1917], Messines, Belgium, 14 June 1917, Private William Ratcliffe, 2nd Bn, South Lancashire Regiment
For most conspicuous bravery ( Messines, France ). After an enemy's trench had been captured, Private Ratcliffe located an enemy machine gun which was firing on his comrades from the rear, whereupon, single-handed and on his own initiative, he immediately rushed the machine gun position and bayonetted the crew. He then brought the gun back into action in the front line.
This very gallant soldier has displayed great resource on previous occasions, and has set an exceptionally fine example of devotion to duty.
William Ratcliffe was born in Liverpool and at the age of 17 joined the Army and served in South Africa during the Second Boer War. On leaving the army he worked on the docks, but when the WWI broke out he rejoined his old regiment, The South Lancashire Regiment (Prince of Wales' Volunteers). After being discharged in 1919, he was known as the Dockers VC when he went back to work at Liverpool docks.
He was burried with his sister and Brother in Law. Cornelius Walsh is also named on the bottom of this stone, killed at Dunkirk 1940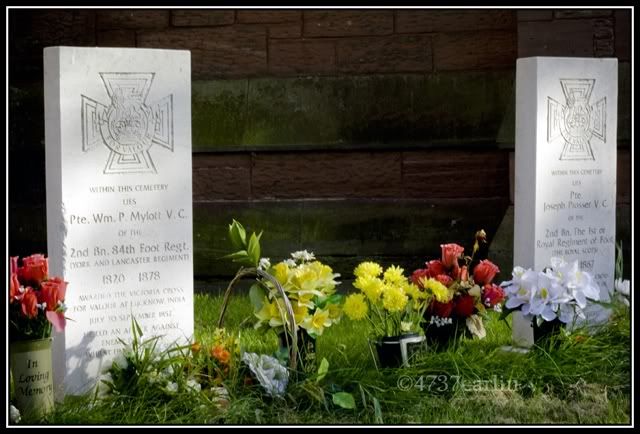 These stones in Anfield cemetery say "within this cemetery lies". Joseph Prosser is buried in a unmarked grave in section 14, Patrick Mylotts grave thou i couldn't even find in the cemetery records
Sergeant Patrick, MYLOTT VC (1820 - 22 December 1878)
84th Regiment (York & Lancaster Regiment) Lucknow, Indian Mutiny, 17 November 1857
For being foremost in rushing across a road, under a shower of balls, to take an opposite enclosure; and for gallant conduct at every engagement at which he was present with his Regiment, from 12th of July, 1857, to the relief of the garrison. Elected by the private soldiers of the Regiment.
He later achieved the rank of sergeant. He died in Liverpool, Lancashire on 22 December 1878.
Private Joseph, PROSSER VC (21 January 1833 - 1869)
2nd Bn 1st Regiment (Royal Scots, The Lothian Regiment)
On June 16th, 1855 at Sevastopol, Crimea, when on duty in the trenches, Private Prosser pursued and apprehended (while exposed to enemy cross-fire) a soldier in the act of deserting to the enemy. On August 11th he left the most advanced trench and helped to carry to safety a severely wounded soldier of the 95th Regiment who was unable to move. This act was performed under very heavy fire from the enemy.
Another one from Anfield that had been a unmarked grave until this stone was errected in 1989
John Kirk VC (July 1827 - 30 August 1865)
Born in Liverpool. He was approximately 29 years old, and a private in the 10th Regiment of Foot (later The Lincolnshire Regiment), British Army during the Indian Mutiny when the following deed on 4 June 1857 at Benares, India led to the award of the Victoria Cross to him, Peter Gill and Matthew Rosamund:
Citation for the Victoria Cross
*For daring gallantry shown at Benares, India, Private Kirk, on 4th June 1857, volunteered along with Sergeant-Major [Peter] Gill and Sergeant-Major [Matthew] Rosamund to rescue the Pension Paymaster, Captain Brown and his family, who were surrounded by rebels in the compound of their bungalow. He succeeded, at the risk of his own life, in helping to rescue them.
He was burried in Anfield Cemetery, Liverpool and this head stone was errected in 1989.
His Victoria Cross is displayed at the Museum of Lincolnshire Life (Lincoln, England)