Sluice Overflow
I'd had my eye on this Outfall for a while now, but bad weather and my recent injury prevented me from taking a closer look.
As I was passing through today, I decided to finally get up close and see what exactly it was. From the opposite side of the river bank it appeared a fairly big (2.1M) conrete outfall with a big ass grille preventing access.
I assumed it was a CSO, but the absence of toilet peripherals or running water ruled that or a culvert out
Getting down the river bank and up close provided much entertainment, nevertheless I made it in one piece
As I peered over it looked as though getting through the grille was going to be near on impossible, still I climbed down to the waters edge to attempt entry.
No sooner did I put my leg in it disappeared quicktime into sinking sand, and I mean disappeared
I quickly whipped my leg out and opted for the other side, which tbh didn't look much different, also the water was quite deep as well.
Again I stepped in and was sinking fast past my waist FFS, all this fuss for a bloody overflow. Without wanting to give up I managed to climb around the outside of the concrete and into the recess which housed the Outfall. There was a huge build up of quicksand in front of the grille so i had to climb onto it and over to the far side where there appeared to be a gap just big enough to squeeze through.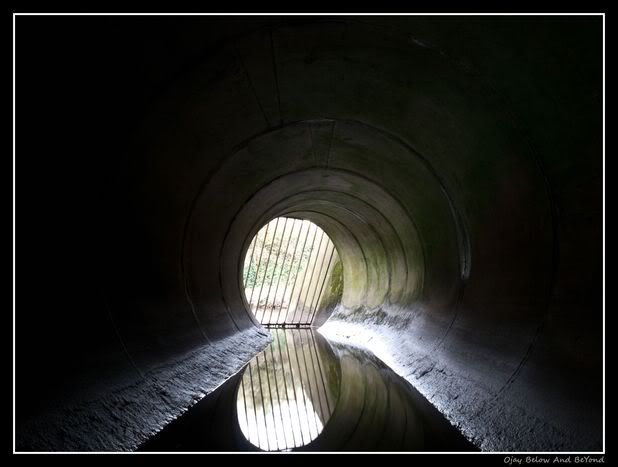 Once through, I was now stood in a 2.1M RCP, 1ft deep in water
I must have only walked 200 yards and there was a small inspection chamber ahead, infact there were 3 of these along the way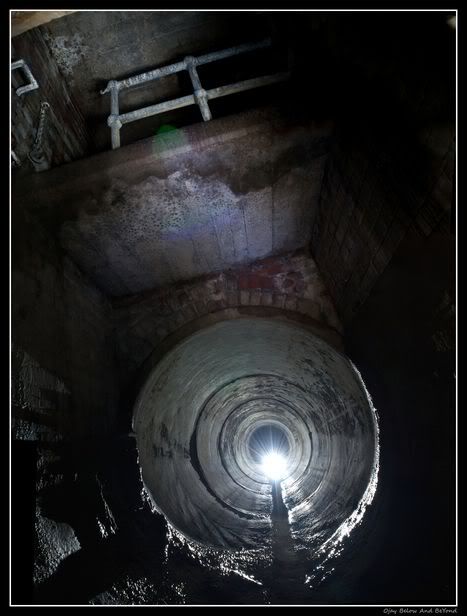 At the other side, the RCP shrunk to 5ft which now meant stooping, as it turned out it was the same all the way to the Infall...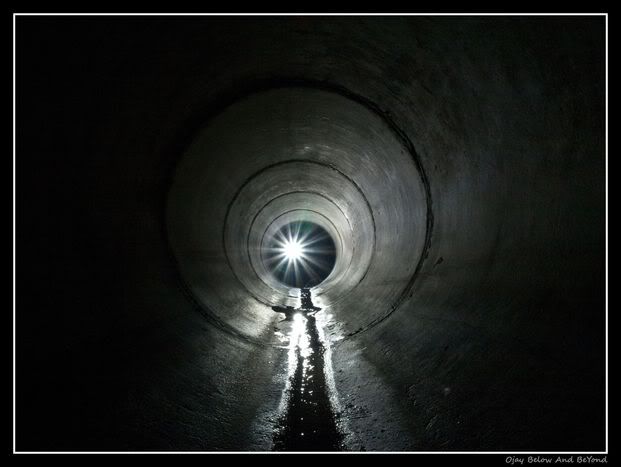 After stooping for easily half a mile as the pipe changed direction a few times I could eventually see daylight
I was a bit miffed after all the effort to get in, infact I was at least expecting a CSO chamber or processing room but nish.
As I turned the corner I could see the grilled Infall, and there was deffo no way out here
As I looked out I could see a sluice gate, what looked like a flood plain and a 1M overflow on the opposite side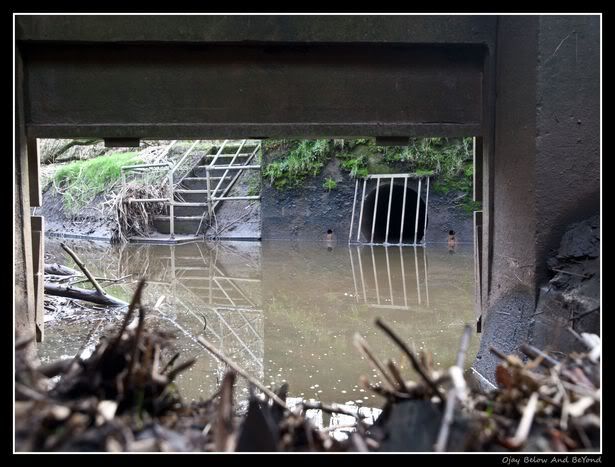 I managed to get a GPS fix on the iphone, which looking at google earth appeared to be in the middle of nowhere, and was infact a flood plain.
The two overflows both drained into nearby rivers.
Disappointed YES, but at least I finally got to find out what the overflow actually was, and in the end killed a couple of hours.