Hi all,
Just got back from an great morning in Stockport. Met Gage at 7am
and explored Brinksway and Dodgehill WW2 Air Raid Shelters that are
cut in to the sandstone in town.
Dodgehill Shelter
We parked up close to Dodgehill and found the entrance easily
(Big thanks to the guys on the forum who provided those access details-
You know who you are) but unfortunately couldn't find a way in
without getting wet! We checked our gear then made the crawl in.
It was suprisingly warm inside and we began to explore leaving a
beacon to find the way out- We were later glad we had.
Dodgehill consists of a set of tunnels that wind their way in to the hill with most corridors lined with old metal bunks.
The original entrances are all well sealed up.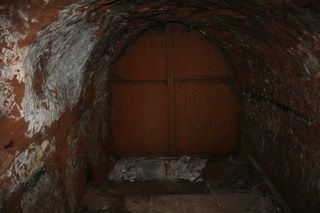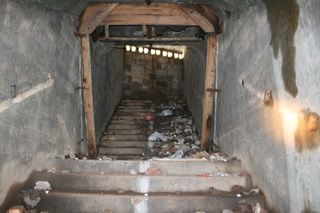 We soon realised that you can never have enough light in
underground sites! My little torch was woefully inadequate.
We wandered around for an hour doing our best not to get
lost in the twisting tunnels.
Emerging in to the light we were caked in mud but keen to see the next site.
Brinksway
The other shelter was a short drive away in a more residential area.
We parked up and found the way in. New problem - Gage and I
would not be described as waif like and the access here was
through an even smaller hole than at Dodgehill.
We both just about made it with our hands above our heads and
skidded down the banked earth inside the hole.
This shelter has had a few more people through it judging from the
rubbish down here. Similar layout and style but it did feel different.
It was colder and many walls were cover in a white mold. There
were several orignal lanterns lying around that previous explorers
had used to house their tea lights.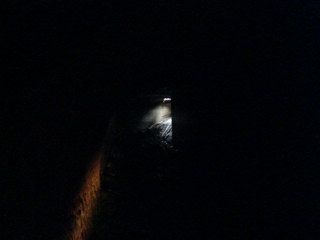 We followed one tunnel and discoved a manhole cover that would
allow easier access in the future. However on the outside it proved
impossible to locate despite 20mins hunting for it.
We decided to round off the trip with a quick look at Barnes Hospital
for Gage's benefit. Unfortunately we heard voices once we were
inside and bumped in to security about ten minutes later.
All in all a great mornings exploration.
Offkilter