Underground Manchester - Discovery of Deansgate Tunnels
What we appear to have discovered are intriguing sections of some of Deansgates so called Tunnels.
This is not to be confused with the Guardian Tunnels or The Manchester and Salford Junction Canal tunnels either.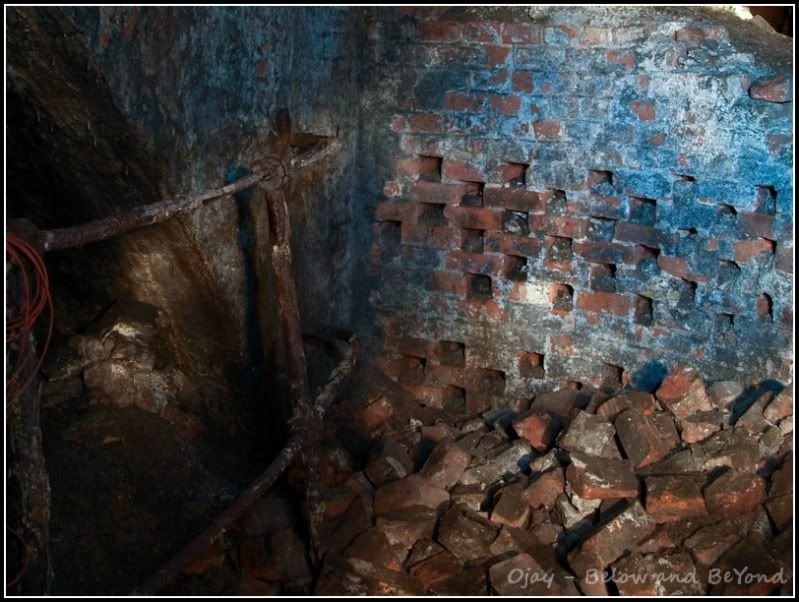 Access was ludicrous to say the least and infact highly 'on-TOP'. In the end Rigy had to bail due to the ever presence of contruction workers and I had to hang around a considerable amount of time afterwards before surfacing back into the daylight and getting the fuck out.
Whilst I was waiting it was pure comedy listening to the workmen speculating what they believed was under Manchester. One guy made some reference to some site (not a forum I might add) and the sort of things he believed were underground and what US so called explorers get upto. Anyway it kept me entertained before the coast was finally clear and I could resort to plan B (Get The Fuck Out).
The best bit, it was only supposed to be a recce but turned out to be a mini explore, as I bombed it into town on my so called lunch break appropriately suited and booted (NOT)..... Ah how filthy it was, it made the 'Arches' look surprisingly clean, as well there was plenty of calcite formations, including even bigger and better stalactites and stalagmites; they were evrywhere.
I would have spent hours in here given the chance, but I knew I was on borrowed time so did what I could before I left, as it's probably gonna be
sealed back up forever.
The air quality wasn't great, it was freezing cold and the mist from my breath was making it difficult to light paint, so I do apologise if the pictures aren't great either.
Some Facts:
As you can imagine there isn't much on this place, even the council haven't disclosed much about it, I certainly have struggled to give you some hard facts but what I can tell you is the following.
The age of these tunnels are not known but believed to date between 200-300 years old?
It was in 1911 that an accidental discovery of such arched tunnels were discovered just off Deansgate, and certainly seem to be consistent with what I have seen whilst down here
We only had limited time to explore some of this and quite a few of the interconnecting tunnels were back filled, bricked or partially filled, although I did manage to squeeze through a couple that brought me eventually alongside and underneath Deansgate itself.
It is believed that they originally ran all the way from Water St to another point close to the river near the Cathedral. Now I cannot substantiate that, but after what I have seen I certainly believe that this probably the case and a lot more besides!
Quote from one of Uncle Keiths articles:
"Workmen once discovered an underground passage, it had an arched roof, built of brick, and is wide enough to allow a horse and cart to travel along it, penetrating the passage, the men found it extended even further before being bricked off. There is evidence to show that this wall does not mark the end of this underground way"
Again the system we saw today I believe was definately linked, and the bricking up I did witness was certainly of some age.
It was really something else down there, both the construction of the brickwork and the engineering that must have gone into this.
It was very similar in parts to both the Cathedral Arches, as you can see from some of the photographs and the Salford and Manchester Canal Junction which is close by this system, although certainly not now connected if indeed it ever was.
I think it's fair to say that we have seen something special and intriguing, even Uncle Keith would be amused down there.
Note to Keith - Copyright Dude LOL (But get me back into the Manchester And Salford Junction Canal and I will take you on a tour)
I will let the pictures do the talking from here on in, Thanks for looking...