Just flicking through my site and realised i've got quite a bit of a write up for Whittingham so;
Brief History
Built as part of the County Aslyum network, Whittingham was Lancashires Asylum. Built to accomodate 2500 patients, it was one of the largest in Europe. It existed as a near enough self sufficient community. As it was expanded over the years, its population grew and peaked at over 3500 patients. Rather unique to Whittingham, it had its own railway line and station that linked it to nearby towns.
As you can see from the above photo, the site was vast. The larger complex in the centre of the image is St Lukes. If you look on the right hand side, near the centre, the duck pond is visible. This is where the material came from to make the bricks that the asylum is built from.
Visit 1: July 2007
Whittingham was my first 'proper' explore. The first I documented, the first time I was in a place where I really knew I shouldn't be. I had been looking forward to it for a while.
My brother had walked round the grounds before, and knew the layout a bit - he came with me. As we approached, we headed away from the social club that was in use - right round, through the grounds. The grounds are huge, and in its day would've added to the grandeur of the site. We walked past the church, and had a peek inside. Sealed tight and there was no way I was climbing about on a church looking for a way in!
Nipping through more of the grounds, heading toward Cameron House we saw people walking their dogs and casually strolling around, it made it all very relaxing. I felt less worried knowing that if questioned, I could legitimately justify being where I was.
We approached Cameron House and began tracking the fence, soon finding a way through. My heart was racing. I worried about security spotting us, and kicking us out - we quickly headed inside.
Woah, this place is trashed. I got the camera out again and started taking pictures. As well as being new to exploring, I was new to photography and had only had my camera for about a week.
We carefully and very quietly snuck around the bottom floor, I was fascinated by the way it had just, well, rotted and fallen into itself. Walking down corridors, peering into rooms with no floors in them - but with skirting board still the level of where the floor used to be. It was just so bizarre to look at. The larger rooms, day rooms I think they'd be called had very little floor remaining, and the wooden dividing walls were half hanging there - covering from ceiling, to well, nothing. There was no floor for them to mate up with just a big open vastness exposing the pipes and cables running beneath the building. The covered corridors that linked parts of the building were no longer covered, their roofs hanging down in tatters - looking like daggers suspended from the ceiling.
Venturing upstairs, the floors were in better condition. They were concrete underneath, and so had not rotted away like the lower floors. Looking further up the staircases, I could see blue sky. The roof was totally missing from this section, and the floor we were on was being sheltered by the floor above. The day rooms were just as trashed, but had a floor I felt safe walking on, in the centre of the rooms there was a hole in the centre, were I looked down into the room below.
After quite a while of carefully exploring Cameron House we headed out, and beyond the fence. Onward toward another building, after a quick peek into a boiler room type section of it, and a quick look through a window at another part. We left the site, we had run out of time. A return trip was definitely on the cards though.
Visit 2: July 2007
The building I had looked at the end of the last visit I had since learned was the Nurses Accommodation, and having found access to it on the previous trip, we headed straight there. After getting inside this building, it was clear it was not as impressive or photogenic as Cameron House. It smelt a bit funny too. Nevertheless, I was still glad to be in there, and again my heart was racing.
There was evidence of pikey activity in this building, with cables strewn across the floors, missing their copper cores. Determined to find something interesting in this building, we went into the roof space and down into the cellar. Half way down the cellar steps, I changed my mind. It was very dark down there, and not expecting to be going underground I hadn't brought a torch. We left the building, and I took some outdoor shots of it, one in infrared.
From there we headed to the main building. Through some mud, under a fence and away. Hiding in the trees, checking we weren't seen. St Luke's is a huge building, and it still had its roof mostly intact. Very on edge now, it took a good few minutes before we decided it was safe to leave the cover of the trees and approach the building. Carefully walking up to it, constantly checking our surroundings making sure we were not spotted was exhilarating. I shouldn't be here, and there were people employed to look out for, and stop people from being there. Didn't see them though. After gaining access to St Luke's, the first thing I spotted was a shoe. It wasn't a workman's shoe, or that of an other explorer. No, it probably belonged to an ex patient, or member of staff. Bits like that really made me stop and think, and thinking back just 15 years and wondering who would be stood where I was then and what would be going on in these rooms. Had a quick look round one of the wards, and then into a corridor. Brief trip up a lift shaft to have a look at the motors and switch gear up there and then down to the ground floor. Downstairs was a bit creepy. The windows were boarded down here, and it was dark. The floors were not solid. The corridors were full of holes, and tricky to navigate but fantastic to photograph.We didn't stray far from the main corridor, weary of loosing track of our way in. Creeping along, stopping often because we could hear things. Finally rationalising the noises as water dripping in various parts of the building.
We found the main hall, it was dark. The floor was full of holes. Again we didn't have a torch with us, and didn't fancy risking the floor. So I just took it all in from the door, was quite amazing looking it. The detailing on the walls, the ceiling, and the fact that there was still Christmas/party decorations up made it feel even weirder.
After seeing a few more sights, we headed back out, carefully retracing our steps.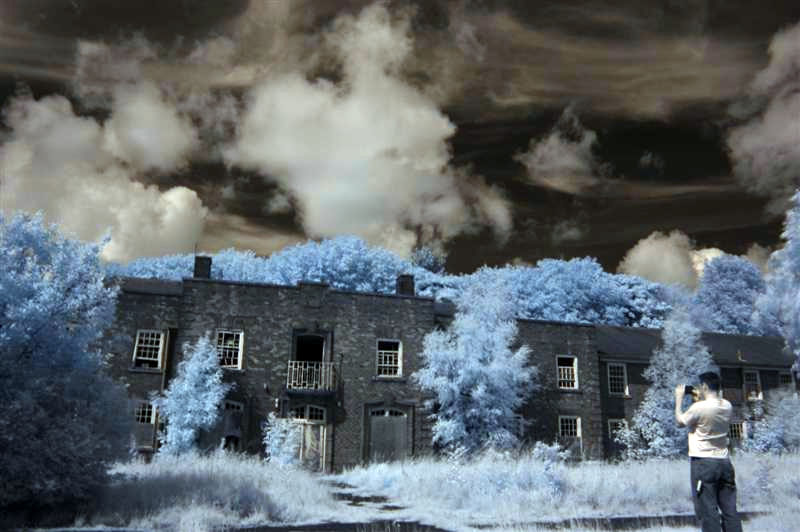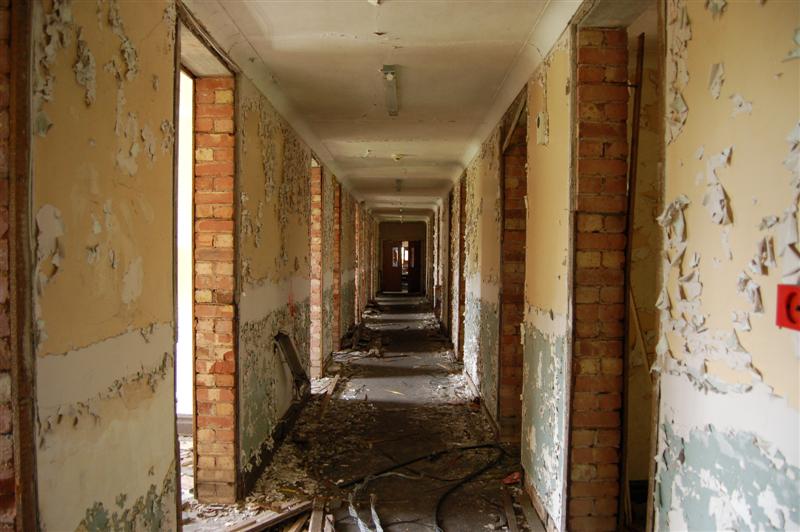 Visit 3: Aughust 2007
After speaking to some people on 28DL, I found out that the cellar in the Nurses Accommodation is an entrance into the vast service tunnel network that runs beneath Whittingham. Ben sorted me out with maps, and a brief rundown of where the tunnels went. So armed with some wellies, and a couple of torches we headed back.
The tunnels were strange, they varied in depth and the temperature varied dramatically in there. At some points it felt too warm and stuffy, and at other points I could see my breath. The tunnels were cramped, and there were many pipes and fittings to hit me head on. They stank, were partially flooded a full of asbestos clad pipes. We had to be careful not to disturb these pipes - there was enough of it already in the air. Respirators should be used in places like this.
After a wrong turn, we ended up heading toward St Margaret's which was demolished years earlier. The tunnels become more flooded as we got toward the demolished block. We stopped to let my friend put plastic bags on his feet (I did tell him to bring wellies!). Whilst he was doing that, I started playing with the camera and the torch. Then I dropped the torch in the water, it drowned. I had a spare though, so it wasn't the end of the world - just a bit irritating! We headed back on ourselves, and out toward the laundry complex. This section of the tunnel stank of acid, possibly from discarded batteries. Whatever it was, it wasn't pleasant.
Out of the tunnels and into a vast room, with glossy tiled bricks from floor to ceiling and hoisting gear on the walls and ceiling. Passing some seriously heavy switch gear, various switches and dials, all showing 'off'. Labels pertaining to parts of the hospital which are still standing but long since closed, and some parts that are no longer standing.
We carefully headed out of this section, and stealthily through an open section and into the laundry complex. No machines left in here, just a network of pipes and some funky looking ducting hanging from the ceiling. Vast emptiness, huge rooms - with just.. well, nothingness in them. A wheelchair, a typewriter, a pool table and a copy of the Daily Star from 1995. Not a lot left in this bit. After a brief look into some other tunnels - over into the cellar of Cameron House, we headed back out of the tunnels and off home again.
Few more shots;
http://urban404.net/whittingham_gallery.php