So called because that's how I feel about it!
Me and Tristan heard rumours about this one quite some time ago now, so it's been on our to do list for ages but it just took us a while to get around to it. I had really been looking forward to checking this one out as I'm really interested to see if my own city has anything exciting hidden beneath the surface in a similar style to Manchester.
After a few nights spent hunting around in the dark for the area in question, it looked like it was now either inaccessible due to recent developments in the city or our source had unfortunately got it wrong. I decided I'd come back during the daytime to get a view of the place from a higher vantage point to see if I could see anything new and bingo(!), it turns out that our source had got his directions a little to the left and the place we were actually looking for was over a wall in another area to the right, doh!
Anyhoo, after Tristan spent a day creating an amazing rope ladder, we decided to go and try it out. We got there pretty late and found that the area was still very busy so we thought we'd sit it out. Little did we know it was gonna turn out to be a massive stakeout! Two and a half hours, one burger and one box of spicy chicken wings later, most of the eight taxi drivers who had decided to pick the place to hold a fookin mothers meeting (it wasn't even a taxi rank!) began to leave, so we went for it while we still had a chance! This is what we found…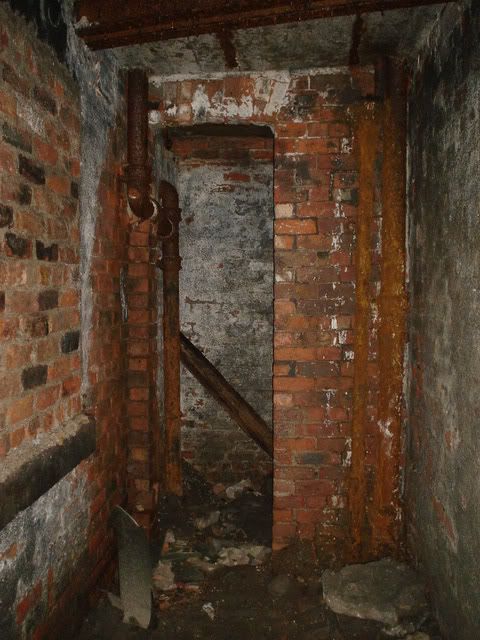 As you can see, the tunnel itself unfortunately didn't stretch very far, but at one stage it did contain windows and entrances to other possible sections which have since been bricked up. I am intrigued as to where they lead but also disappointed that after spending a fair old amount of man hours on it, it wasn't all that exciting. My rather graceless dismount on the way out didn't help matters either, doh!
Ah well, win some, lose some, but that's the nature of our bizz I guess!
Cheers for readin and cheers to Tris for his patience and amazing rope ladder building skills,
U.P.