Oldham Equitable Co-operative Society building 1900. By Thomas Taylor of Oldham.

AKA Hill Stores & Ballroom - Visited By Ojay.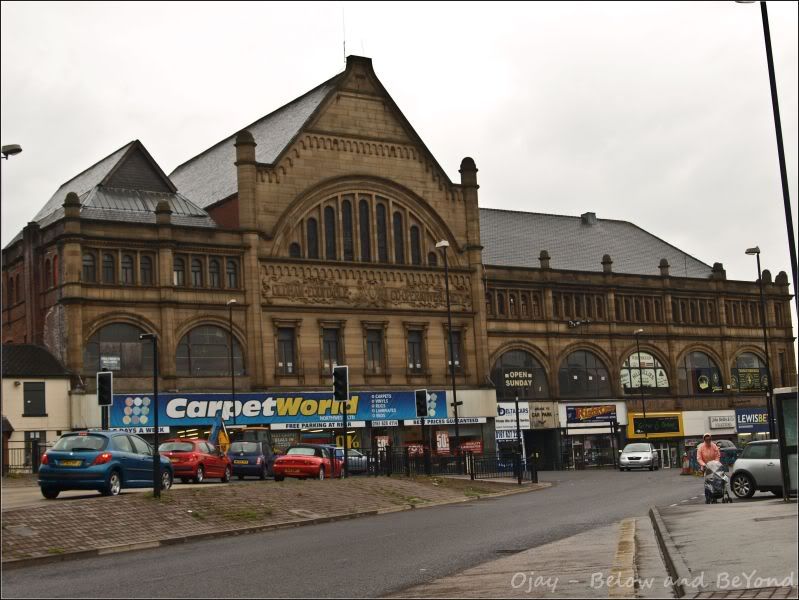 Ashlar faced to brick with Welsh slate roof. 3 principal storeys, divided unequally into 3 main sections with massive gable flanked by blocks of 2 and 5 bays. Left-hand range is gabled at right-angles to street, and has a modified ground floor, and 2 wide segmentally-arched windows to first floor divided by polygonal pilasters which continue across second storey and the parapet.
Arcaded upper storey of 5 bays, with marked entasis to piers. Similar pattern repeated in 5 bays to left of gable which are roofed parallel to street.
The Central block comprises a high gable at right-angles to street, with modified ground floor, 5 windows with bracketed sills and entablatures to first floor, and massive semi-circular window with round-headed mullioned lights above. Scalloped decoration above and below. Coped gable with terminal pinnacles each side. "Oldham Equitable Co-Operative Society" in decorative low relief above first floor windows.
Ground floor throughout has late C20 fascias but the original polished granite columns survive, though mostly encased.
The building was originally of greater extent with a courtyard to the rear, and the existing rear walls are faced with white glazed brick. It was also designed to include a drapery, gentlemen's outfitting, furnishing, boot and shoe, butchering and grocery departments, together with offices, committee and board rooms and included an educational department with newsroom, library and conversation room.
2 large public halls were also provided, one of which since the late 30's was used as a Ballroom, which was continued into the 80's before it finally closed it's doors. The first 2 storey's were occupied by 'Hill Furniture Stores' into the late 90's before they closed down and the lower sections of the building are now home to a carpet store, Taxi rank, Solicitors, Cafe & Betting Shop. The upper floors remain in a state of dereliction.
The building is now an English Heritage Grade II listed building, and has been rumoured to develop the upper floors into modern day living accomodation. (yeah right).
Anyway having found my way in, it was only a matter of time before I found my way up the main stairwell and into the old Ballroom above. There was serious amounts of pidgeon poop in here, as it's been empty since the early 1980's. It was definately in a serious state of dereliction.
'Crunch', 'Crunch' with every step..... Eventually I bothered to see what the hell it was, only to find I was treading on endless amounts of dead pidgeon carcases (nice!). I have never seen as many dead birds in one place, (Er maybe at KFC), and I had no mask either FFS.
The highlight of this place was seeing the stain glass window INTACT and was a glorious sight with the natural light pouring through, WINNER!
Anyway on with the pics, thanks for looking
Loading Bay, Looking up
Stairwell upto the 3rd floor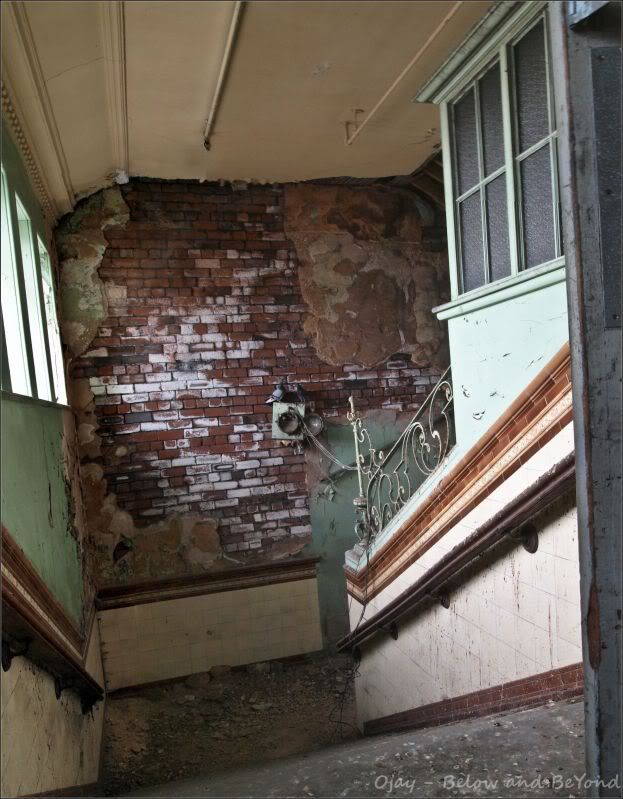 Toilets, nah thanks, I'll wait
Grand Designs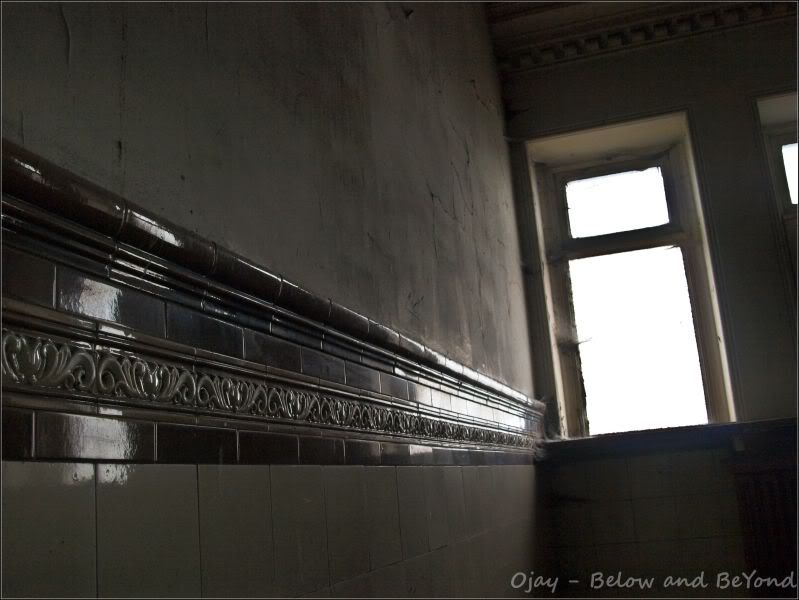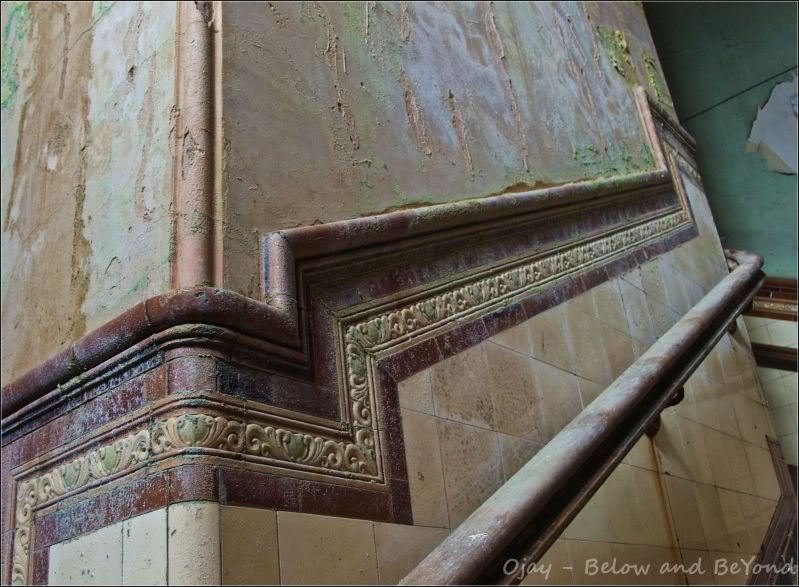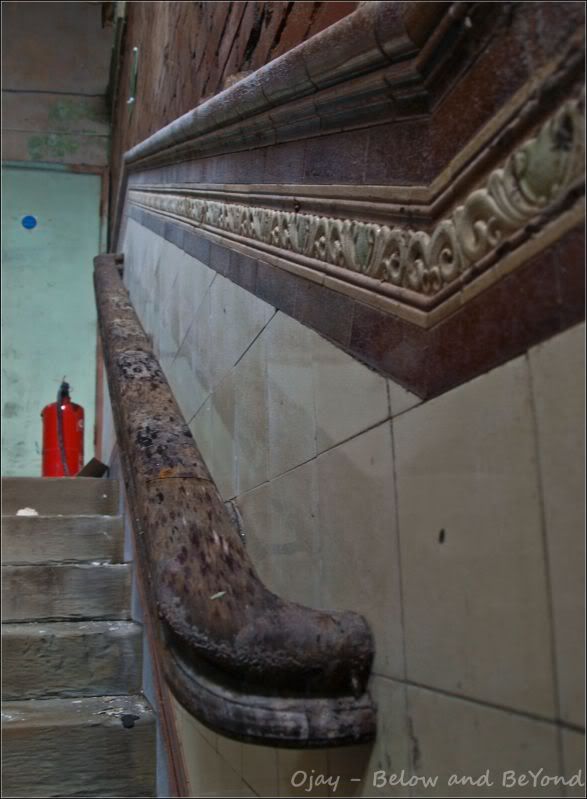 Doorway through into the corridor leading to the Ballroom
Corridor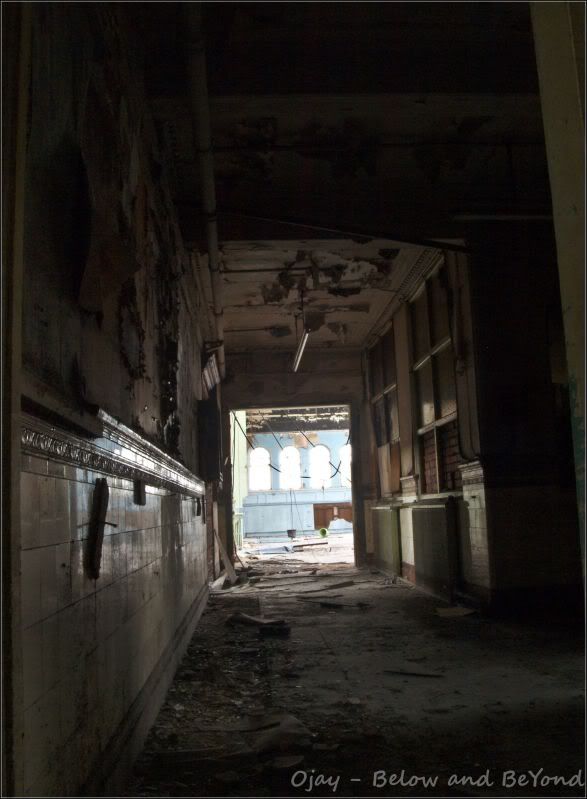 Ballroom
,
and below the poop was the original sprung Maple dance floor
Possible venue for a future meet? (LOL)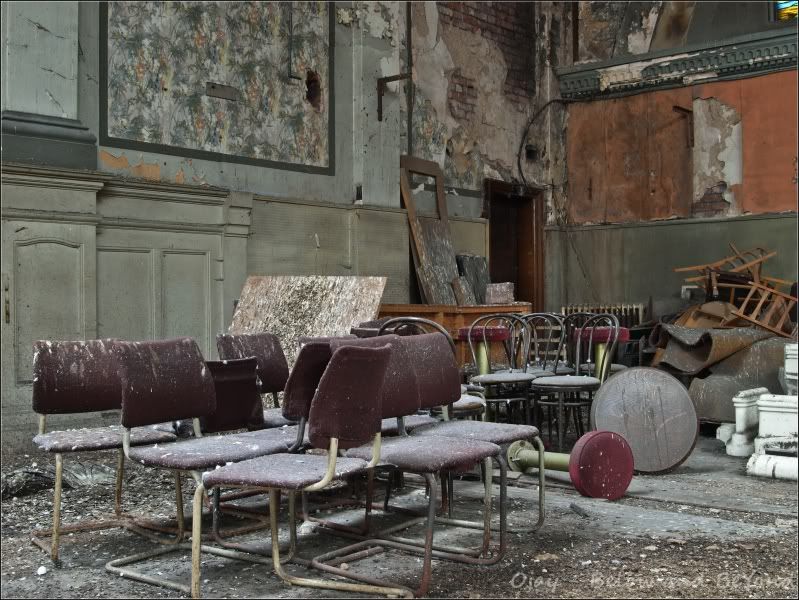 Origianl Stained Glass Window